Morning or evening …… .. When is it better to wash your hair?
Many of you may have had a question in mind that When should I wash my hair? ……….. Washing my hair in the morning With that evening or night All have different advantages and disadvantages ……… So we should know the facts about shampoo. In order to properly care for our own hair
Washing your hair in the evening or early in the evening

.
It has the advantage of being able to wash away dirt each day. Reduce the accumulation of toxins and germs on the scalp. And sleeping equipment such as pillows by washing your hair 2 hours before going to bed in order to have a period of time that I really dry completely Before going to bed
.
.
Do not recommend washing your hair late at night before bedtime. Because our hair is often not completely dry. When sleeping, a person typically moves every half to two hours per night. Which causes the hair to be easily stretched and pulled >> cause more damage than hair that is completely dry Hair becomes more easily tangled and broken.
.
In addition, moisture retained if the hair is not completely dry. Can create a humid scalp environment. This encourages the family of fungi "Malassezia globosa (Malassezia globosa) to grow well by these fungi. It plays a key role in causing dandruff, inflammation and scalp irritation. Which can stimulate hair loss
.
But if you can't avoid it, you have to wash your hair before bedtime. It is essential to blow dry your hair completely. You may use a dryer that reduces the heat to prevent hair damage.
.
Wash your hair in the morning.
Washing your hair in the morning It has the advantage of making you feel refreshed. Hilariously The hair is ready to be styled.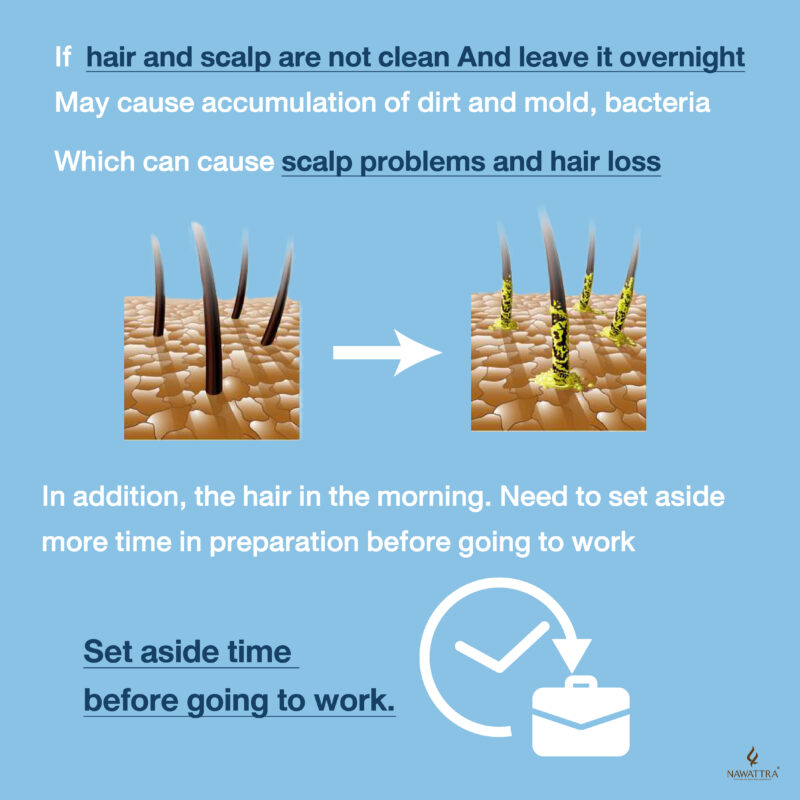 .
But in case the hair and scalp are not clean And leave it overnight May cause accumulation of dirt and mold. Bacteria that cause scalp problems And hair loss ……….. In addition Washing your hair in the morning Need to set aside more time to prepare before going to work

.
Lastly, NAWATTRA has some tips for choosing a shampoo for you. The shampoo should be designed to suit those who have hair loss problems. It is absolutely necessary ……………. The shampoo should not contain harmful chemicals or preservatives. Should be easily washed off. It does not leave SLS residue on the scalp. NAWATTRA shampoo contains extracts of wanhamameg that have natural anti-inflammatory effects. Help maintain scalp health. And has research activity that helps resist sex hormones that cause hair loss as well
.
—————————
ติดตามบทความด้านเส้นผมที่น่าสนใจ ถ้าบทความมีประโยชน์ ช่วยแชร์เผื่อเพื่อนๆกันด้วยนะครับ 
^_^
.
ด้วยความปรารถนาดี
NAWATTRA
สมุนไพรไทยว่านมหาเมฆสกัด ต้านผมร่วง ศรีษะล้าน จากฮอร์โมนเพศและกรรมพันธ์
พัฒนาจากงานวิจัย ม.นเรศวร งานวิจัยยื่นจดสิทธิบัตร/อนุสิทธิบัตร
.
www.nawattra.com
Line id: @nawattra (มีเครื่องหมาย@)
หรือคลิกง่ายๆตามลิ้งค์นี้ได้เลยครับ https://line.me/R/ti/p/%40nawattra
อ่านบทความอื่นๆ ได้ ที่นี่